Altiris Software Virtualization Solution (SVS) allows you to install and run programs virtually so that they do not reside on your system but in a virtual 'layer' which you can switch on or off at will.
It enables you to test an application and completely 'turn it off' if you choose without altering the Windows installation. It also enables you to avoid conflicts/.dll conflicts between applications. Alitiris SVS is free for home, non-commercial use.
Have you ever suspected that an application might have an adverse effect on your system or that it might conflict with other installed applications? Or perhaps you would like to have both an older version (or versions) of an application as well as the most recent release.
With Altiris SVS you can do this easily and elegantly. Here's how Altiris SVS works: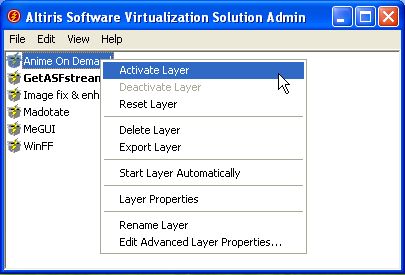 Before installing the application in question, run Altiris SVS and create a new virtual layer (a layer is the program's terminology for the virtual 'space' that the program will exist in). All other virtual layers have to be turned off.
Browse to the new application installer from within SVS. Note that you have the option of capturing all the change made to the system by the application or capturing all the changes made to the system even if these were not made by the application you installing.
That's it. The program will now be listed in Altiris SVS's interface, and can be turned on and off.
Typically, installing a program involves writing some information into the registry, creating a directory in 'program files', creating some dlls (either inside the installation directory or in a system direcory), creating a start menu folder and possibly creating desktop and/or quick launch icons for the installed app. All of these will occur when you install an application with SVS; however, should you choose to turn the installed virtual program's layer off — poof — all of these disappear in a flash, and the program literally is gone without a trace. Turn the layer back on and the program reappears instantly. You can have multiple layers/programs switched on at the same time (except, of course, when the programs conflict with each other or when you have multiple versions of the same program that cannot coexist).
Note that virtualization is not restricted to program installations; you can use SVS to create a virtual layer that relates to either specific directories (recursively or not) or specific file extentions. You can then literally switch back and forth between 2 states. I tired this and I must say that I found it a bit hard to wrap my brain around exactly what SVS was doing here; it would retrieve an earlier folder structure of a folder that I virtualized, and 'remove' the newer files that I put into it. However, it did not seem to 'retrieve' files that were there that I had deleted.
Given the number of I install every week in order to test and write about in 'Freewaregenius', this is one of the most exciting programs that I have come across in a long time. What's remarkable this about this software virtualization concept is just how well it works. I created a handful of 'layers' and each installation was smooth and problem free. The concept of a virtually installed program is simply brilliant, and Altiris SVS is a wonderful implementation of it. I cannot recommend this program highly enough.
Version tested: 2.0.1407
Compatibility: Windows 2000, 2003, XP. Not sure about Vista.
Download instructions: [updated 7/2/2009]
UPDATE: Altiris SVS has been acquired by Symantic and the freeware version has been discontinued. You may be able to download it here.